Digital Enterprise Show
On May 21rst - 23rd, we will be at DES | Digital Enterprise Show. Come to meet us, tell us about your project and we will bring it to life. If you'd like to schedule a meeting with us during the event, send us an email to eventos@armadilloamarillo.com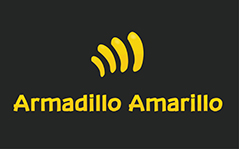 We are Armadillos
We want to make a difference for your customers through digital solutions that bring efficiency and innovation to your business
We help you
Do you have an idea for an app? Do you need to develop your project? We can help you do it. We will make a proposal without commitment to develop it in phases
Tell me more
Hire our team of experts for your next project
PinApp
Mobile Marketing platform based on the detection of the user's real position
PinApp includes the connection with own-made Bluetooth beacons, as well as connection with a mobile app and a dashboard to handle the BigData.
Read more
Donations App
Donations App is an app developed by Armadillo Amarillo for organizations, foundations and non-profit associations to receive micro donations.
Tell me more
yellow.hosting
Hosting service as a base for Internet projects and mobile apps.

More information
Contact us
You can call or just send us an email. You can also visit and we will invite you a coffee
Contact us